Regional cities are closing the gap on illustrious London, according to the latest data release from Property Franchise Group business partners
Hometrack
.
Having traditionally lagged behind the London market, places such as Edinburgh, Birmingham and Manchester could be set for a 20-30% increase in house prices over the next four years.
Prices in the capital have soared by as much as 86% since 2009, with the likes of Oxford, Cambridge and Bristol not too far behind with growth pinned at 70%.
House price growth from 2009 to January 2018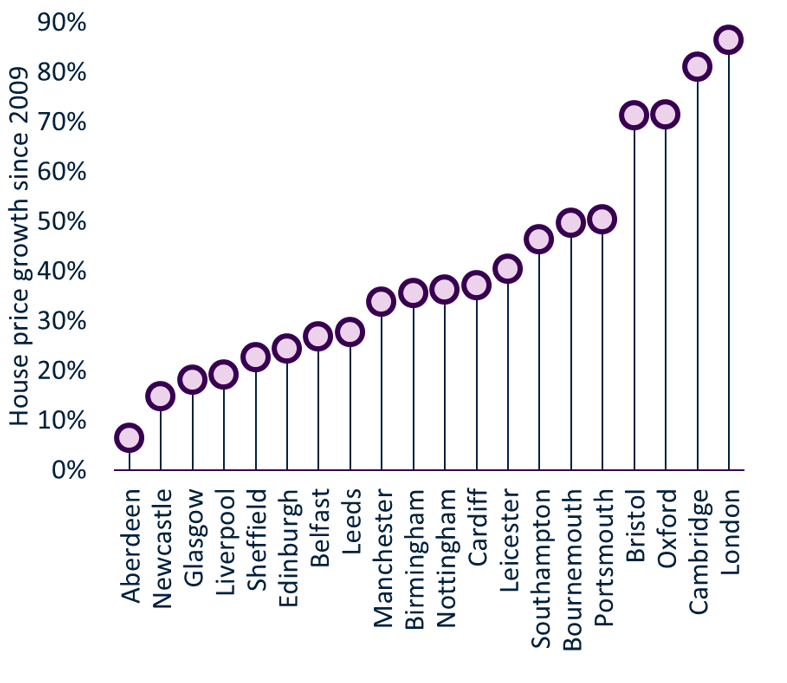 But London growth has slowed to its current level of 1.6% year on year, with Edinburgh, in contrast, posting 7.7% growth in the past 12 months and Birmingham 7.3%.
Hometrack said: "There are questions over the sustainability of pricing in London where gross yields (rental returns and capital appreciation) are sub 4.5 percent and affordability is at an all-time low."
"The opportunities for positive rental returns in the range 7% to 10% still exist in provincial markets if you spend time on stock selection, and if you select your city wisely there is still the potential for capital appreciation to be had. Speak to your local Martin & Co branch who can advise you on the stock types which are always in demand, and cite evidence of how capital values have performed since the 2008 financial crisis" said CEO of The property Franchise Group, Ian Wilson