Sell your home, or rent it out?
It's a big decision and what you decide to do will largely depend on your personal circumstances and what your future plans are.
In this guide, we'll run through both options and explore the pros and cons for renting or selling your property.
We'll also look at everything you'll need to consider before renting your property out – because doing so officially makes you a landlord.


Should I sell my house now?
It's been a tricky period for the property market since the pandemic hit in the spring of 2020.
But the market has bounced back in style and with property prices on the rise in almost all areas of the UK, it remains a great time to sell if you're thinking of doing so.



Properties are selling quickly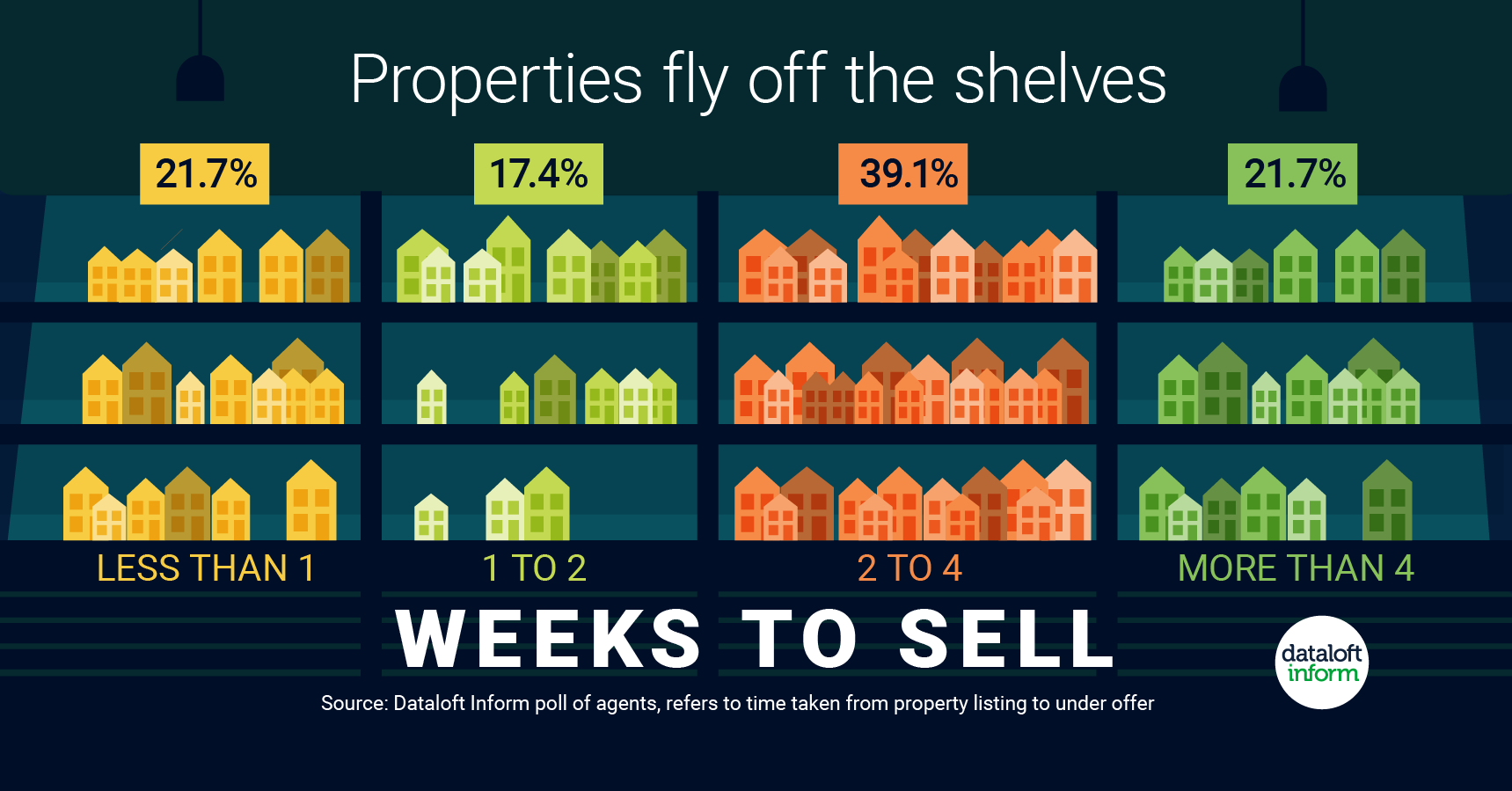 Almost 22% of agents say most properties on their books are selling within one week, according to Dataloft Inform.



Prices are increasing all over the UK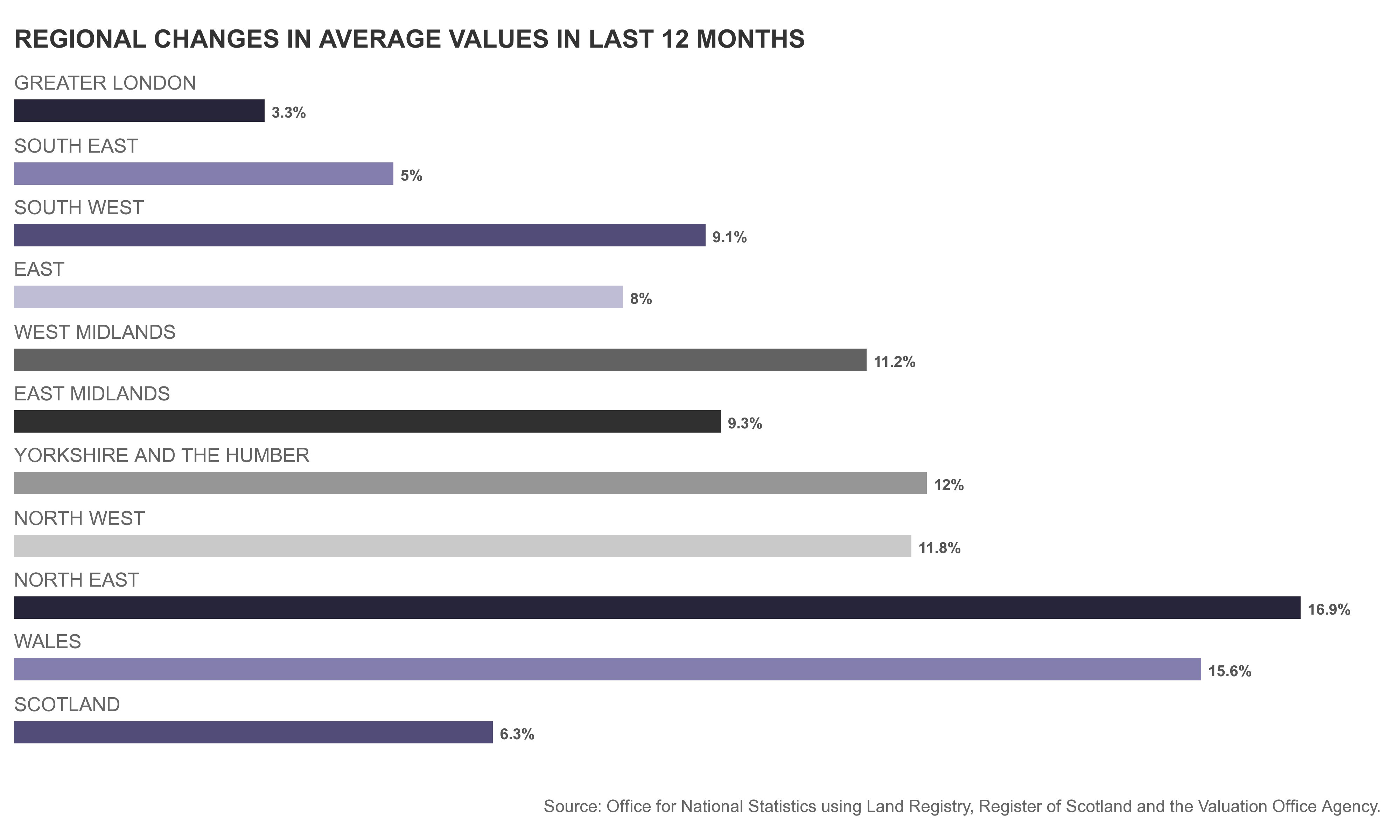 Annual property price growth in the UK hit 8.9% in April, according to the Office of National Statistics.



Regional annual price growth
According to Rightmove's May 2021 House Price Index, property growth was on an upward trajectory in every one of the UK's main regions:
• Scotland – 7.2%
• North East – 6.7%
• Yorkshire & Humber – 10.5%
• North West – 11.1%
• East Midlands – 9.1%
• West Midlands – 9.1%
• East of England – 7.3%
• Wales – 13%
• London – 0.2%
• South West – 9.2%
• South East – 7.9%


Is it better to rent out or sell my house?
Whether you should sell or rent your property out will depend very much on your own circumstances – but there are a number of pros and cons you should consider:


The pros and cons of selling your home
---
| | |
| --- | --- |
| Pros of selling it | Cons of selling it |
| You could release equity to buy your next property | You could be selling an asset that will grow in value over time |
| Any money you spend to add value to your home won't be lost in capital gains tax | It can take time to sell your home and if you're in a long chain, there are risks |
| In a rising market, you could get a good price for your home | In a falling market, you could lose money |
---


The pros and cons of renting your house out

---
| | |
| --- | --- |
| Pros of renting it out | Cons of renting it out |
| You might be able to move quicker | You'll need to stay compliant with ever-changing lettings legislation[YG1] , unless you use a managing agent to take care of this for you |
| Good tenants pay on time and look after properties | You could find your home requires more maintenance |
| You could make an additional income and enjoy capital growth in your property for the future | You'll be taking on additional debt if you keep your property and buy a new home |
---


Scenario: 'I'm moving abroad. Should I rent or sell my house?'

If you're moving to another country, deciding whether to sell or rent out your UK home will largely depend on whether you plan to return in the future.
If you plan to return to the UK:
• Renting out your property will mean you have a home to come back to
• You could earn a good income from renting out your home while you're away
• You'll benefit from any capital growth
• A lettings agent could manage your property for you while you're abroad, meaning great peace of mind
If you're moving abroad for good:
• Selling your home could give you a nice lump sum to start your new life in another country
• You won't have to worry about your property's condition from afar


Scenario: 'My house isn't selling. Should I just rent it out instead?'
A property that just won't sell can be hugely frustrating.
And it's usually at this point many sellers consider whether renting out their home is a better option.
Before deciding whether to rent out your home, or keep it on the market, you should consider:
• Whether you need the equity in your home to buy your next property
• Whether you can afford to take on two mortgages
• Whether you're ready to be a landlord and deal with the responsibilities that come with being one


Scenario: 'I'm buying a property with my partner. Should we both sell our homes or rent them out?'
If you're buying with a partner and you both own homes already, you have great options.
You could rent out one of your properties and sell the other, which may provide you with enough capital to buy your new home and generate a nice income at the same time.
Or you could sell both of your properties and either buy a bigger home with your deposit or borrow less capital through a mortgage.
Finally, you could rent out both of your properties and enjoy the income that comes with doing this.
However, you'll also need to consider:
• How many mortgages you want to take on and whether you can afford to own two or three properties
• The extra responsibility of owning rental properties and being landlords


Should I renovate my house before selling?
If you're struggling to generate buyer interest in your home, it can be tempting to undertake renovation work in a bid to help it stand out.
Before taking on major work, however, consider:
• Whether you'll get back what you spend through added value
• What your ideal buyer would want from your property
• The need for the work
Often it can be better to focus on the issues with your property rather than any attempt to add value.
Does your property have:
• Structural issues?
• A leaking roof?
• Missing roof tiles?
• Damp problems?
• Rotten timbers?
• Infestations?
If so, it's often better to direct any cash towards solutions to these problems, which could be a major turn-off for potential buyers.
Now read: The ultimate checklist for selling your house


Can I rent out my house?
If you're thinking renting out your home is a better option than selling it, the first thing you'll need to find out is whether you can rent out your property:
• You'll need to seek approval from your mortgage lender if you wish to rent out your home
• Some lenders will be happy for you to do this and switch your mortgage to a buy-to-let loan
• Others may decide your property or financial situation doesn't fit their criteria for a buy-to-let mortgage
• There may be additional costs to consider when switching your mortgage from a residential loan to a buy-to-let


Is renting out a house a good investment?
Renting out your home can be a good investment:
• The monthly rent can provide you with an additional or replacement income
• You could benefit from long-term capital growth and boost your pension pot for later years
However, there are a huge number of additional costs and compliance responsibilities you'll need to consider before deciding if renting out your home is right for you.


Tax considerations when renting out your house
When renting out your home, there are several tax issues you'll need to think about.


Income tax
If you earn money from rent, this counts as income and can affect your income tax payments.
Whether you pay income tax on your rental profits will depend on how much you earn from other work.
By adding rental income to your other income streams, you could find yourself in a higher bracket, which means you'll pay more tax.
Now read: A landlord's guide to tax


Capital gains tax
Capital gains tax may be due on a property that isn't your main residence when you sell it.
However, there are deductions you can make and additional relief if you've previously lived in the property.
Now read: Everything you need to know about capital gains tax


Can you afford to own two properties?
If you decide to rent out your home and buy another property to live in, you'll become the owner of two properties.
As well as your lender's own financial assessment, you should always be comfortable in your own mind that you can afford to own multiple properties.
You should consider:
• If you can afford two mortgages should your rental property be empty for a period of time or your tenant has difficulty paying their rent
• Your lender's own financial criteria, which usually stipulates that your rental income covers at least 145% of your mortgage costs, but may vary


Rental property costs you'll need to consider
• Your mortgage payments
• Council tax when the property is empty
• Utility bills when the property is empty
• Service or ground rent charges
• Letting agent fees
• Gas safety inspections
• Energy performance assessments
• Electrical safety checks
• Landlord insurance premiums
• Cost of repairs and ongoing maintenance


Compliance when renting out your home
When you become a landlord, you're taking on a huge amount of legal and health and safety responsibility.
In fact, landlords must comply with hundreds of individual pieces of legislation in order to legally let a property.
The most common are:
• Electrical safety and Electrical Installation Condition Reports (EICRs)
• Annual gas safety checks
• Fire risk assessments and fire safety rules
• Minimum Energy Efficiency Standards (MEES)
• Tenancy Deposit Protection
• Right to Rent checks
• Housing health and safety rating system (HHSRS) and Homes (Fitness for Human Habitation) Act 2018


Should I use an agent to rent my house?
The best way to stay compliant and give yourself vital peace of mind when becoming a landlord for the first time is to use a lettings agent's management services.
As well as finding the right tenants for your property, a full management service should also include:
• Rent collection
• Tenant's deposit protection
• Handling of routine tenancy issues, including repairs and maintenance
• Regular property inspections
• Management of all compliance to ensure your legal and safety obligations are met


How to rent out your home
The steps you'll need to take to rent out your home vary from country to country in the UK, so if you're looking to let a property in Scotland, Northern Ireland or Wales, you should seek guidance online:
In England, these are the steps you may have to take to rent out your home:
• Explore the local market and look at your competition
• Seek your lender's permission to rent out your home, or switch lenders
• Decide which letting agent's service better suits your needs
• If you're letting your home by the room, you may need a House in Multiple Occupation (HMO) licence – check with your local authority
• Organise your landlord insurance policy
• Advertise your property for rent through your local agent
• Reference potential tenants and perform Right to Rent checks, or ensure your agent is doing this for you
• Protect your tenant's deposit in one of the three schemes available, or check your agent has done this on your behalf
• Organise a property inventory through your agent or ARLA's inventories provider
• Finalise your tenancy agreement and sign along with your tenant