As a property investor, you will almost certainly be looking to make money from your investment. Why else would you do it?
The way you make money will either come from rental income or capital growth over time. A long-term investment will hopefully generate both.
In order to work out how lucrative your buy-to-let property will be in terms of the money it makes you from rent, you'll need to work out the rental yield of the property.
While there are a multitude of rent yield calculators online, it's actually a pretty easy sum to do and you certainly don't need an accountancy degree to work it out.
SO, WHAT ACTUALLY IS RENTAL YIELD?
Essentially, rental yield is the income you expect to make from a a buy-to-let property. In order to keep tabs on how your property, or properties, perform you'll need to know this.
Gross rental yield is most commonly used and is easy to calculate:
* Take your property's purchase price (or value)
* Work out the amount of annual rent it generates
* Divide the two figures and multiply the answer by 100
Viola! That's your property's rental yield. Here's an example...
Your property's value is £250,000 and the annual rental income is £12,000. That means the property is running at a gross yield of 4.8%. (12,000 / 250,000 x 100)

WHAT IS NET RENTAL YIELD?
Net rental yield is also worth calculating as a landlord as it factors in all the other costs associated with running a buy-to-let property.
Those costs could include landlord insurance, mortgage payments and routine maintenance / property management costs.
Given the government's 3% stamp duty surcharge for those buying second homes, it can also be worth factoring in that additional landlord cost but for the purposes of this example, we've kept it simple: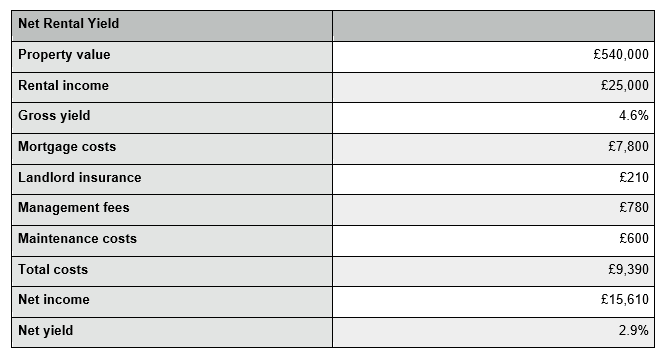 ARE THERE ANY OTHER VARIABLES WHEN IT COMES TO RENTAL YIELD?
Property prices vary across the UK and so do monthly rents, so rental yields do fluctuate depending on where your buy-to-let property is.
For those looking to invest for the first time, it pays to keep track of property values and rental prices before deciding where to purchase.
For instance, 2018 research by totallymoney.com revealed Liverpool postcode L7 was the UK's best rental yield hotspot with a percentage of 11.79%.
The best rental yields in the south were achieved in Guildford (GU14) where landlords, on average, pick up an 8.48% yield.
Landlords looking for a short-term investment should focus their attention on areas where high rental yields are achievable.
Liverpool's high yield potential is largely due to the city's universities and the 70,000 students looking for rental homes.
With purchase prices in many areas of Liverpool still attractive but the demand for student properties high, landlords looking for short-term investment opportunities should speak to Martin & Co's Liverpool South branch.
HOW CAN I MAXIMISE MY RENTAL YIELD?
There are several ways to get that rental yield percentage going in the right direction, but some require careful consideration...
1. Increase your rent: Firstly, if you do want to implement a rent rise, make sure you can through the terms of the tenancy agreement. Secondly, consider if a rent rise is the right thing to do in terms of your tenant. It can be more cost-effective in the long term to keep a happy tenant rather than risk losing them through a rent hike.
2. Lower the rent: No, really. If your property's rental price is too high for the property type and area, there is a strong chance you'll experience a void period at some point. Missing out on rental income and the costs associated with finding a new tenant will all hit your rental yield.
3. Maintain your property: Tenants can be demanding, and rightly so. They expect quality accommodation for their monthly rent but if you can make your buy-to-let stand out from the crowd, there's a chance you'll be able to charge more. This will be a welcome boost to your rental yield percentage.
4. Cut costs: Remortgaging to a deal with a more attractive interest rate or shopping around for tradespeople to perform routine maintenance can all help lower your costs and boost your net yield figure.
For more advice on rental yields, property prices and capital growth in your area, speak to one of the property experts in your
local Martin & Co branch
.