Area Guide: Southampton
Southampton's rich history is backed up by just how much it offers property buyers and renters – from its highly-regarded universities and teaching hospital to its glorious marina and stunning coastal properties.In this Southampton guide, we'll tell you everything you need to know about the city, where to live and how much it costs to buy a property.We'll also highlight Southampton's best schools, pubs, and restaurants, and showcase the area's superb transport links.
Where is Southampton?
Southampton is a large city and port on the south coast of England, around 70 miles south west of London and 15 miles west of fellow port city Portsmouth.
Southampton is the largest city in Hampshire and lies close to the New Forest National Park.
Is Southampton a city or a town?
Southampton expanded rapidly during the Victorian era and after serving as a major port during World War II, the then town was granted city status in 1964 to become the City of Southampton.
Is Southampton a nice place to live?
As recently as 2021, Southampton was ranked the UK's third best city for green space and had been previously been named the third best city in which to live and work.
Southampton combines the best of amenities, employment and educational opportunities with coastal living and the amazing green space of the New Forest, making it a superb place to live.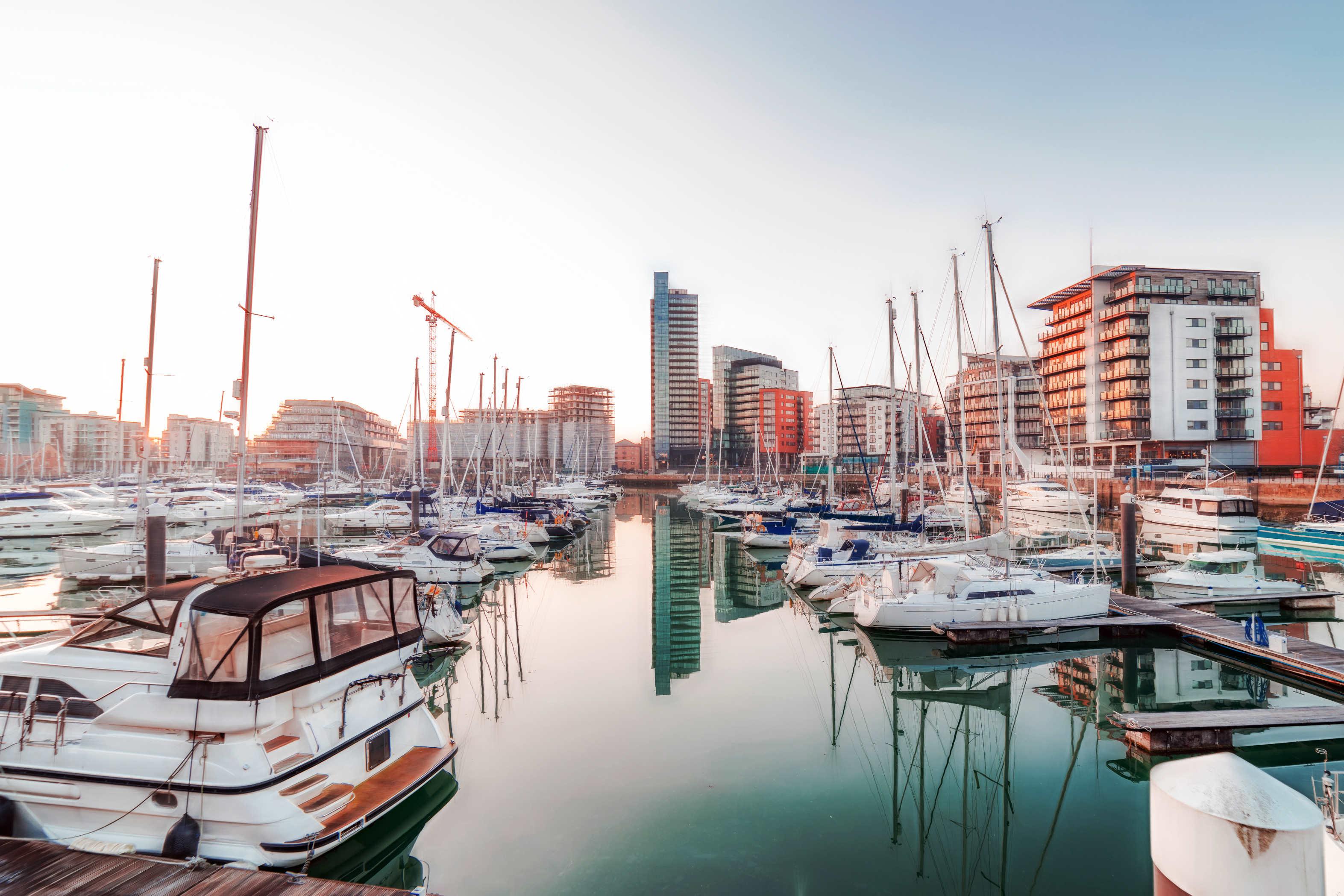 Is Southampton expensive to live?
According to Numbeo, Southampton is 20% less expensive to live in than London, while average rents in the city are 57% lower than the capital.
The best places to live in Southampton
Southampton is a large city and, as such, offers buyers and renters a real variety of communities to choose from and properties to view.
Ocean Village
One of the most desirable areas to live in Southampton, Ocean Village offers superb properties surrounded by great amenities and links to the city.
The area, which is home to the Royal Southampton Yacht Club, sits on the mouth of the River Itchen and properties come with excellent views out to Southampton Water.
Portswood
Close to the University of Southampton, Portswood is a popular area for students living in private rented accommodation but is also a great spot for families and young professionals who like a variety of shops, cafes and restaurants on their doorstep.
Freemantle
Freemantle is just to the west of Southampton city centre and offers some of the best period homes in the city. The area also has great access to the New Forest being on the western side of the city and close to the A33.

Bassett
North of the city centre and close to both Southampton Common and the M27 motorway, Bassett is hugely popular with families and is home to some very good schools, as well as the open space of the common and Southampton City Golf Club.
Bitterne
On the eastern bank of the River Itchen, Bitterne and Bitterne Village are popular areas with families thanks to some superb amenities and schools. The area also provides good access to the riverside and the Chessel Bay Nature Reserve.
Highfield
Highfield is home to the University of Southampton, but most students reside in nearby Portswood, Bassett, the Polygon or the city centre. Highfield has a nice community feel and some stunning period homes, as well as excellent schools.
Swaythling
North east of the city and close to the River Itchen and M27, Swaythling benefits from its own mainline railway station and is just south of Stoneham Golf Club – one of the best courses in Hampshire. Southampton Airport is less than a mile away or just seven minutes on the train.
Property for sale in Southampton: What you'll find
Southampton grew rapidly during the Victorian era, so you can expect to find some superb Victorian and Edwardian homes in and around the city centre.
Areas like Freemantle and Highfield boast the city's best period properties, while Ocean Village provides modern apartments and penthouses with sea views, as well as some stylish townhouses.
Swaythling, Portswood, Bitterne and Bassett offer a good mix of period and post-war homes as well as more modern, purpose-built apartments.
Property prices in Southampton
The average price of a property in Southampton in the year to July 2021 was £227,202 according to Dataloft Inform – a rise of 3% on July 2020.
Average costs by property type in Southampton
Detached house: £421,267
Semi-detached house: £275,471
Terraced house: £230,968
Flat / apartment: £155,204
How much you'll pay in council tax
A Band A property in Southampton will cost you just under £1,300* a year in council tax.
Common Band C and D properties, meanwhile, cost between £1,700* and £2,000* per year, while the most expensive Band H homes cost just under £4,000*.
*For year April 2021 to March 2022. Prices from southampton.gov.uk
Property to rent in Southampton
Rental properties available in Southampton range from student rentals and family homes in areas like Highfield, Portswood and Bassett, to stylish apartments in Ocean Village.
Rental prices in Southampton
The average monthly rent for a property in Southampton was £875* in July 2021.
Buy-to-let investors, meanwhile, can expect yields of up to 6% from rental properties in Southampton.
With more than 30,000 students across the University of Southampton and Southampton Solent University, student houses are in high demand.
*Prices from Dataloft Inform July 2021
Southampton's best primary schools
Southampton really does provide great options for schooling, which is, in part, why the city remains so popular with families.
Southampton is home to 16 'Outstanding'-rated primary schools within five miles of the city centre, including:
• Springhill Catholic Primary
• Bitterne Manor Primary
• Beechwood Junior
• Highfield CofE Primary
• Sholing Infant School
• Portswood Primary
• Bitterne Park Primary
• Harefield Primary
• Townhill Infant School
A further 67 primaries within five miles of the city centre are rated 'Good', including:
• St Mary's CofE Primary
• St John's Primary
• Banister Primary
• Bevois Town Primary
• Freemantle CofE Community Academy
The best secondary schools in Southampton
Four secondary schools within five miles of Southampton city centre are rated 'Outstanding' by Ofsted:
• St Anne's Catholic School
• Rosewood Free School
• Hounsdown School
• Wildern School
Southampton transport links
Southampton is ideally located for easy access to the rest of the south coast and London.
Southampton rail links
Services from Southampton Central to London Waterloo take just under two hours, while there are also stations at Swaythling, St Deny's (near Portswood), Woolston and Sholing.
Trains from Southampton Airport (Parkway) take just over 90 minutes to reach London Waterloo, with more than 50 trains a day.
Southampton Central station also offers trains to Dorset and the New Forest, with services to Brockenhurst taking just 15 minutes.
Southampton road links
The M27 motorway links Southampton with Portsmouth and the A27 for Brighton and the Sussex coast, while the A33 provides direct access to the New Forest. The M27 also links with the A31 to the west for the New Forest and the Dorset coast and the M3 for London.
Southampton airport links
Southampton city centre is just three miles from the city's airport, which offers both domestic flights and destinations across Europe.
Southampton cruise links
Of course, Southampton is best known as one of the UK's biggest cruise ports, with the likes of P&O, Royal Caribbean and Princess Cruises all sailing from the city.
Destinations include Scandinavia, the Mediterranean and the Caribbean.
Southampton's best restaurants and pubs
Southampton offers a range of traditional and modern drinking venues, as well as a truly multi-cultural list of restaurants.
Five of the best pubs
From city centre haunts to peaceful country-style pubs, Southampton has something for everyone. Here are the pick of the city's best pubs…
1. The London Road Brewhouse
Many of Southampton's best bars and pubs can be found in the lively Bedford Place area close to the city centre.
The London Road Brewhouse is among the best, serving a range of cask ales alongside regular live music and quiz nights.
2. The Cowherds
Right next to Southampton Common, The Cowherds serves country pub food and seasonal dishes showcasing local produce.
The venue's Sunday roast in front of an open fire is a real local favourite during the colder months.
3. The Hobbit
Inspired, as you might expect, by JRR Tolkien, The Hobbit in Bevois Valley is a real experience.
As well as a wide selection of beers and ales, The Hobbit is also known for its cocktails, which are superb to sup in the venue's large garden.
4. The Pitcher and Piano
The Pitcher and Piano is one of Ocean Village's most popular venues, with a huge range of drinks and views across the marina.
Grazing plates and pub classics are also available from the bar's lunch and dinner menus.
5. The Dancing Man
Located on the Town Quay, just up the water from Ocean Village, The Dancing Man is a brewery as well as a pub.
So, you can expect a good range of ales, as well as a stunning outside seating area with views across the water.
Five of the best restaurants in Southampton
From curry and classic British dishes to elegant fine dining, Southampton has something to offer all tastes when it comes to restaurants. Here are our top five…
1. The Oxford Brasserie
The Oxford Brasserie can be found on the lively Oxford Street and is a great option for both lunch and dinner.
As well as an extensive vegan menu, the venue's a la carte offering includes British classics like pork belly and garlic spinach, and rack of lamb with red sticky cabbage.
2. Coriander Lounge
Southampton is a truly multi-cultural city, so when it comes to excellent Asian cuisine, there's plenty of choice.
Among the best is Coriander Lounge in the heart of the city centre, which offers a huge menu of classic Indian dishes and chef's specials.
3. Ennios
A 100-seat classic Italian eatery with views across the water at the Town Quay, Ennios offers a range of antipasti, pasta, meat and seafood dishes for all tastes.
The venue also offers rooms in its boutique hotel right by the waterfront.
4. Porters Wine & Charcuterie
Overlooking historic Queen's Park close to Ocean Village, Porters Wine & Charcuterie offers an extensive wine list alongside a vast menu of meats and cheeses.
The charcuterie boards on offer include cheeses from Hampshire and the Isle of Wight, as well as the famed Stinking Bishop from Gloucestershire.
5. The Jetty
Run by renowned New Forest chef patron Alex Aitken, The Jetty can be found inside the Harbour Hotel at Ocean Village.
The venue serves locally caught seafood and seasonal ingredients and the views across the water make it a very special restaurant indeed.
Things to do in Southampton
Southampton's rich maritime history is brought firmly into the present day with the annual world class Southampton Boat Show.
Held every year in Mayflower Park, the event attracts hundreds of thousands of boat enthusiasts.
The SeaCity Museum, meanwhile, highlights Southampton's historic past, including how the Titanic disaster affected the city and how it went from small stone age settlement to the 'gateway to the world'.
The Titanic Trail walking tour also offers an incredible insight into the Titanic's maiden and fateful voyage from Southampton in 1912.
For lovers of green space, Southampton Common offers more than 300 acres of grassland, walks and waterways and is a superb spot for wildlife.
The site also hosts the Common People music festival each May.
The New Forest is only a short drive away along the A33, but it's also possible to reach the village of Hythe in 10 minutes by ferry from the Town Quay.
From Hythe, the Beaulieu River, Beaulieu Motor Museum and historic Palace House are only five miles away, while the beaches Isle of Wight are also accessible by ferry from the city.
For theatre lovers, the Mayflower plays host to major West End productions, as well as superb music and comedy acts throughout the year.
And if sport is your thing, why not take in a game at Southampton FC's St Marys Premier League home right next to the River Itchen.
Finally, no visit to Southampton is complete without experiencing the city's incredible shopping.
As well as a packed High Street, the city's West Quay shopping centre is home to more than 120 shops, including Apple, Tommy Hilfiger and John Lewis.
On top of that, The Marlands offers 60 more high street retailers, while the Bargate Market Place is a great spot for fresh produce.