Scotland is best known for kilts, bagpipes and the Loch Ness Monster, but landlords could be missing a trick by ignoring investment opportunities north of the border.
Rental prices in Scotland have continued to outstrip the rest of the UK, rising 1.7% in the 12 months to December 2017, according to a recent survey. Average rents in Scotland, meanwhile, came in at a very healthy £571 per month at the back end of last year.
Glasgow and Clyde was the only region to see a dip in rents, down 4.2% year-on-year, as the East, Edinburgh and Lothians and islands and south regions all saw increases.
Average rental yields have remained pretty constant, too, at 4.8%, compared with an average return on investment of 4.4% in England and Wales.
There are number of things landlords thinking of a property investment in Scotland should be aware of, however, while sweeping reform to tenants' rights should also be digested... but more on that later.
Land and building transaction tax

Otherwise known as Stamp Duty Land Tax in England, there are some key differences between the two.
Firstly, payments are made to Revenue Scotland and not HMRC, while Scotland works to different purchase bands to the rest of the UK.
Changes in April 2016, meanwhile, mean buyers must also part with an extra 3% of a purchase price on top the Land and Building Transaction Tax if they purchase a second property or buy to let home north of the border.
So, about those purchase bands...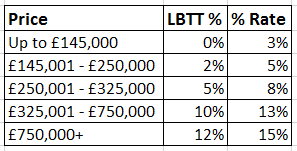 Sealed bids
Other key differences to be aware of when purchasing an investment property in Scotland is the buying process itself. Sealed bids may seem like something of a lottery and the system in Scotland does see homes regularly selling for 10% or even 15% more than the asking price as buyers feel the fear of being outbid.
The pros? If you do nail the winning bid, you can't be gazumped and this means almost all Scottish sales go through without the usual hitches and chain break-ups experienced in the south.
Landlords should also be aware of key rules within areas like legionella risk assessment and portable appliance testing as well as energy performance certificate (EPC) requirements more common place across the UK.
All change
So, what about those reforms to Scottish tenancies? Well, from December 2017 those starting a private let now sign a private residential tenancy (PRT) which provides increased security for tenants compared with agreements in England.
The PRT hands renters longer notice periods and indefinite security of tenure, spelling the end of 'no-fault' evictions.
Rent increases, meanwhile, are capped at one rise every 12 months, while disputes between landlords and tenants are heard at a specialist tribunal and, from last month, lettings agents must now sign and adhere to a new code of practice.
If you'd like to know more about buying a buy to let property in Scotland you can speak to one of our Scottish
Martin & Co offices
.