When I talk to homeowners and landlords around the country, I'm always asked which attributes and features are likely to make their property comparatively more attractive and which ones may detract from the price.
The number one factor affecting a property's value is location. However, the level of differentiation across the UK makes it very difficult to compare; prices are too different within regions and across them.
The second factor to affect the desirability, and thus price, of property is the number of bedrooms. The third is the type of property (i.e. semi-detached).
This is far easier to collect data on.
In previous articles, I have analysed housing stock into bedrooms and type of property, but I have never cross-referenced the two until now.
Have a look at the full UK figures below.
The figures make fascinating reading, showing just over 80pc of all properties in the country as having 3 or more bedrooms - London is the only region with less than 81pc of its property having fewer than 3 beds, but its low rate of 65pc brings the national average down.
Here is the table showing those percentages of 3+ bed properties in each of the UK regions.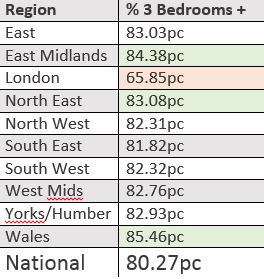 Furthermore, the most numerous type of property is the 3-bed semi-detached, then the three-bed terrace.
I was genuinely surprised by the low numbers of one and two bed properties, especially 2-bed semi-detached houses, which are typically favoured by younger tenants. We may see a shift towards 'family renting' based on that figure alone - the lack of two bed property means mature tenants will rent a bigger home, for longer, so they can raise a family in it.
Thankfully, property prices have finally stopped rising at the silly rates have been for the last 18 months, and mortgages are still rock bottom, so there is room to react to the market, which is encouraging you to invest in a larger property with bigger yields!
All is not lost for landlord investors. The increasing average age of tenants and the availability of bigger properties creates the perfect storm for you to expand your portfolio, it's just a case of doing your research and spotting the trends.
If you're planning to enter the buy-to-let market, contact your local Martin & Co office to discuss investment your options today!
If you want to be kept up to date on the latest Landlord and buy-to-let news you can subscribe to our newsletter