In our new Meet the Team series, were helping you get to know the Martin & Co Canterbury staff by taking a deep-dive into what makes them tick.

First up is Beth Rossiter, our Sales Manager and Interior Design superstar...

Tell us what got you into property sales and what you enjoy about it?

I stumbled across estate agency in my early 20's because I enjoyed the buzz of selling. I was very quickly recognised for having a genuine passion and flair for the property industry. This led me to run an overseas property sales division for a leading estate agency in 2002 before I set up Mirage Designs, my interior design and property staging company, which has been my passion for over 17 years. My property career spans over 30 years and it still gives me the same buzz and enjoyment now as it did then. Not only are we helping vendors to sell their home but we are also supporting their onward move too.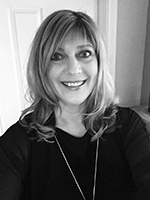 What are the key things you look for when appraising someone's home?

There are so many things to consider when offering a market appraisal but the main ones I focus on are location, parking, the condition & finish of the home, its size (including the number of bedroom & reception rooms) and how much land there is. We also look at what other properties are on the market for or have sold in recent times

What three pieces of advice would you give to someone selling their home, who wants to spruce it up on a budget?
To appeal to the broadest audience base and achieve the best offer for your house, buyers will look at the outside of your property first, so boosting your kerb appeal is key. This can be achieved by clearing away any rubbish, adding flowering pots and new door furniture.
The hallway needs to feel warm and inviting too, which can be achieved by adding a large mirror, warm paint colours and flowers or plants. Finally, declutter and clean the whole house! A prospective buyer needs to visualise themselves living in the space and will be drawn to the negatives, so eliminate as many as possible. That way, they can focus on the positive focal points of your property.

Why is now such a good time to be putting your property on the market?
Late winter through to mid-summer is typically the best time of year to sell your home. With the pandemic-driven desire for more space still motivating buyers, many people will be looking at start the first half of 2022 to buy property. This, together with prolonged low mortgage rates, means now couldn't be a better time to market your home.

Tell us about a property on the books that just needs to be seen...
It has to be Gordon Road. This property is a superb 6 bedroom investment property being marketed at £485,000, situated just a stones throw from Canterbury City Centre and its many transport links. This property really needs to be viewed to be appreciated!!

Outside of work, what do you like to get up to?
I love life and I like to keep busy. This includes travelling, eating out, running, socialising with friends & family, concerts, theatre and relaxation/meditation - the list could go on and on!

If you're looking to sell your home, you can get in touch with Beth direct on 01227 455717 or by emailing [email protected].