Get an instant rental and sales valuation for your property
Get your FREE Hometrack Valuation Report worth £19.95 now
Fee free mortgage advice
We work with L&C, the UK's leading fee free mortgage broker to offer you expert advice on the right mortgage deal, whether you're buying a new home, remortgaging or buying a new investment property.
Find your local property experts
Martin & Co has thousands of available properties to let and for sale throughout England, Scotland and Wales, so we're sure we can find the right property for you at the right price.
Request a viewing online
Search for your perfect home and request to book a viewing slot online by simply selecting 'Book viewing' on any property.
Welcome to Martin & Co... Leading Property Experts in Brentford
We have been specialising in property sales and rentals, covering a wide geographical area including Brentford, Kew, Isleworth and Feltham, since 2010.
Branch Manager Sophie Baxendale brings more than 20 years of property experience to Martin & Co Brentford. Sophie is passionate about the industry and, along with her team, offers exceptional support and guidance to customers across the local area.
Conveniently situated in West London, Brentford attracted the regeneration of its warehouse premises and docks at the beginning of the 21st century, including the re-modelling of the waterfront to provide more houses and apartments.
Our team at Martin & Co Brentford provides each and every one of our valued customers with support and advice to meet their every property need.
If you're buying for the first time, if you want to downsize, or perhaps you wish to purchase your forever family home, our team at Martin & Co Brentford will help you with the next step in your property journey, providing a perfectly tailored service to suit your individual needs.
Please get in touch with a member of our dedicated team.
Opening Hours
–

Monday

–

Tuesday

–

Wednesday

–

Thursday

–

Friday

–

Saturday
11 Albany Parade
High Street
Brentford
Middlesex
TW8 0JW
Call 0208 568 2342
"Sophie was amazing! Always went the extra mile to make everything run as smoothly as possible. Very knowledgeable and experienced. We really enjoyed working with her."
"Sophie and her team are estate agents with heart, I didn't know such a thing existed but now I do. Without going into too much of our personal matters here, we've been through a series of issues with our new property but they really srtive to be there for you and help you with anything they can. They are flexible, open-minded,and practical. Can't recommend higher."
"Previous agent pulled out of a deal last minute almost leaving my wife and i without a home! Thank you so much for finding me a brand new flat so quickly, could not be happier!! The senior letting negotiator, Alex, is the utmost professional and followed the whole way through with his excellent communication skills. Everything happens for a reason!!! Thank you Martin & Co!"
"We had such a positive experience dealing with Sophie during the sale of our old house and also the purchase of our new home. From the start she was friendly, approachable and tenacious is getting us what we wanted - both in terms of price and timelines. Throughout, Sophie was diligent in answering emails, chasing things up where necessary and keeping all parties on track and we have nothing but thanks and gratitude for all her work. We raved about her to our neighbours and she then sold their property too! She really helped make what can be a stressful process just that little bit easier!"
"Let me start by saying, I was very nervous before renting out my property. However, after a good introduction/explanation what the company will do for me, by Alex, I was a bit less worried to start our journey. The tenant was found, shortly, checked out to my and the company's high standards. Overall, I can highly recommend this particular branch, I simply cannot vouch for others but the team helped me out in Brentford. Good luck to you all to find such a dedicated honest team as I did. The negative feedback regarding this office are baseless nonsense on this review page. Be aware of liars!! Great team all good helpful people there."
"Exceptional Service! Sophie and her team were absolutely amazing. They were highly proactive and ensured they kept market interest in the property up until we received an offer. They helped us to get an offer that was acceptable for us and were brilliant at making sure progress to completion was not held up by either party at any stage, ensuring lawyers and other parties were chased up. They provided sound advice and were able to help with organising independent contractors for quotes required in relation to work needed before completion, beating other quotes provided. My wife and I cannot thank Sophie and her team enough ensuring we were able to complete when we needed to. If you go with them you will get a professional and personal service above and beyond what you would expect from normal agents! Thanks again! Simon and Sian"
"Very impressed with the service, the advice and those extra exertions made when renting out my flat in Ferry Quays. So very much better in all respects than my last (very well known) estate agent."
"My wife and I were very pleased with the service that we received from Sophie the Branch Manager and her team. Sophie devised a god pricing strategy to enable us the price that we wanted. Sophie was also very proactive in moving the transaction forward when some of the parties involved would otherwise been very slow. The other members of the team were also friendly and helpful. We would use Martin & Co. again."
"I was under a bit of self imposed time pressure with a fixed budget - not the best start point for buying a flat. But Sophie at Martin & Co was outstanding. She listened to what I was after, gauged my reaction to a couple of properties we looked at, and then applied some lateral thinking to where she might find the property I wanted. Quite simply I would never have bought the flat I am now proud to own without her input, and (more importantly for people reading this) the seller would never have sold to me without her practical, no-nonsense approach."
"I was really delighted with the service I received from Martin and Co. Their experience and determination to overcome a significant down-valuation in the location recently confirmed I chose the right estate agent to sell my penthouse apartment. It was sold without advertising which ensured my costs were kept to a minimum; they certainly raised the ceiling at Ferry Quays! I am a frequent business traveller so had to leave the process in their safe hands and so their knowledge of how to do the job of the solicitors enabled the transaction to be completed in record time. For them to achieve all of the above in such a difficult climate was impressive and I would not hesitate to recommend their services to other property owners."
Meet your local property team
Alexander Hall
Senior Lettings Negotiator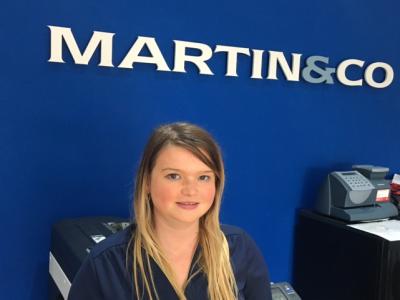 Laura Bennett
Negotiator
Vicky Abbott
Chief Administrations and Property Manager